Surgery Center - Foot & Ankle Podiatric Surgery
Lakeforest Ambulatory Surgery Center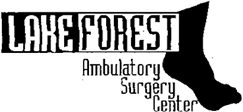 The role of outpatient surgery in our health care system is becoming increasingly more important. Ambulatory surgical centers provide many advantages compared to hospitals. Surgical centers offer convenient and personalized care in a cost effective environment.
The Lakeforest Ambulatory Surgical Center is one of the few Medicare certified facilities in the area. This certification distinguishes surgery
performed here from surgery performed in a typical office setting. Our center is equipped with state of the art surgical and appropriate emergency equipment, compared to your local hospital outpatient surgical facility. The facility is staffed and equipped to perform most procedures, as well as manage any medical problems which may arise.
You now have a choice to either have your surgery done at our center, or as an out-patient at the hospital. Having your surgery done here has many advantages. Of course it is often more convenient and less intimidating, but or importantly, this choice may prove to be more cost effective to you and your insurance company. We are able to deliver personalized care in an efficient and friendly atmosphere.
Location
We are conveniently located in our Gaithersburg office location, 702 Russell Avenue.
Anesthesia
Surgical procedures may be performed under various types of anesthesia. Board certified Anesthesiologists re available to provide general, regional, IV sedation or local anesthesia. An appropriate pre-surgical anesthesia related interview will be performed.
Financial Information
The Lakeforest Ambulatory Surgical Center is expected to be lower in cost than area hospitals. The center has been approved b Medicare and also contracted with various private and HMO type insurance companies. Our office staff will explain financial arrangements and costs at the time of scheduling. Anesthesia and laboratory fees are not included and billed separately.
Pre-Operative Instructions
No aspirin or aspirin-like medications (Advil, Motrin, etc.) for one week prior to surgery
If surgery is performed under local anesthesia, eat normal meals prior to surgery. Do not come to the center with an empty stomach.
If surgery is being performed under general or IV sedation, have nothing to eat or drink, including water, chewing gum, or mints, after 12:00 midnight. You may brush your teeth the morning of surgery; however, do not swallow any water.
Take your normal medications day of surgery with a small sip of water.
This information is provided to you by the doctors of the LakeForest Foot and Ankle Center.
Call 301-948-3668 for an appointment.