What is HyProCure?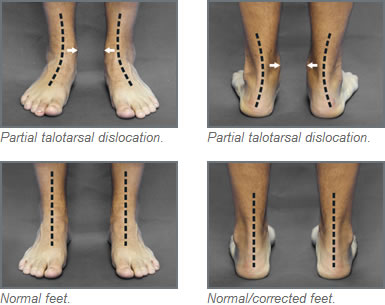 HyProCure is an FDA cleared orthopedic medical device. It is a titanium stent that is placed, through a minimally invasive procedure, into a naturally occurring space between the ankle and heel bones. The threading around the stent allows the soft tissue within the space to adhere to the device naturally. HyProCure will not penetrate or be implanted in your bones.
The HyProCure procedure instantly realigns and stabilizes the hind-foot and allows your feet and ankles to have their normal joint range of motion. The overall balance and alignment of the foot and ankle will be improved and the arch of the foot may appear more normal. The weight of the body will then be rebalanced to the joints with little force acting on the stent itself. HyProCure instantly reduces the excessive forces acting within the bones and soft tissues within the foot and helps realign the knees, hips and back. This minimally invasive procedure has a relatively short recovery and downtime and its medical benefits to patients have been documented in numerous published studies all over the world.
For more than a decade, HyProCure has been changing lives, one step at a time. To date, nearly 40,000 procedures have been performed by HyProCure trained specialists all over the world in nearly 50 countries. HyProCure has helped improve the quality of life in our pediatric and adult patients. Unlike other devices worn by the patients externally, HyProcure offers an internal solution for an internal problem as it fixes the faulty foot mechanics caused by misaligned feet. Once the feet are realigned, the joint range of motion is reestablished to its normal function and the distribution and balance of the weight of the body is restored.
How Does HyProCure Work?
HyProCure corrects the deformity of misaligned feet, or hyperpronation, at its root cause. HyProCure is specifically designed to fix this common condition where the ankle turns inward (talotarsal discloation) and the forefoot turns outward. By placing the HyProCure into the naturally occurring space between the ankle and heel bones, the stent realigns the foot and restores the natural joint motion and weight distribution and balance of the body. HyProCure represents a real and permanent solution for faulty foot mechanics and significantly reduces the negative effect on the body as a result of having misaligned feet. Patients who receive the HyProCure solution usually experience instant relief from their pain and quickly return to their normal activities with an improved quality of life.
For more information visit the HyProCure website.
This information is provided to you by the doctors of the LakeForest Foot and Ankle Center.
Call 301-948-3668 for an appointment.